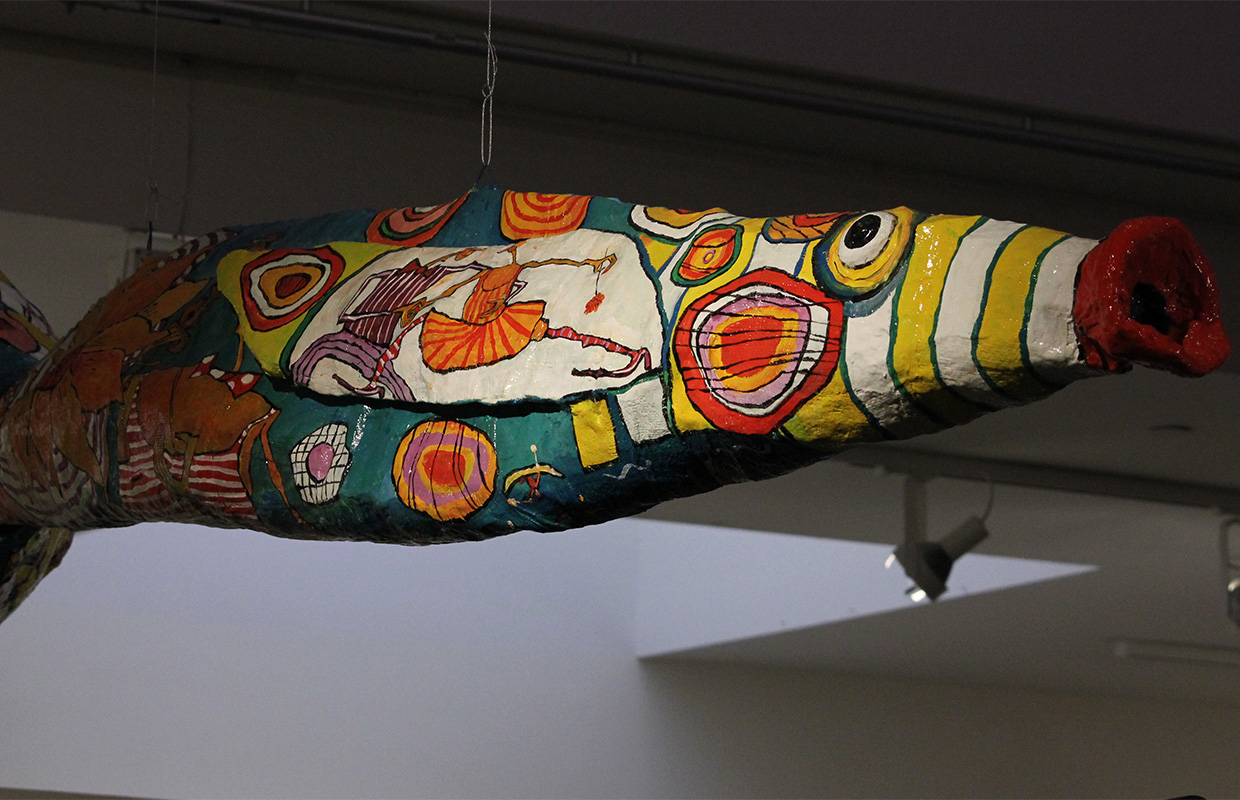 Short Biography
Ann Krasner was born in 1967 in Moscow. She immigrated to the United States as a political refugee with her husband Paul in 1988. Ann has an MS degree in Mathematics and an MBA.
Settled in Malibu with 3 children and her husband, Ann created a distinctive, instantly recognizable style in art. More than 2500 pieces of original oil paintings, sculptures in bronze, ceramic and mixed media are in private and public collections.
Ann's work has achieved worldwide recognition with numerous exhibitions around the world.

---
Selected Museums

• The National Art Museum of Catalonia, Barcelona, Spain
• The Pushkin State Museum of Fine Arts, Moscow, Russia
• Philadelphia Museum of Art, r/s division, Philadelphia, USA
• Los Angeles County Museum of Art, r/s division, Los Angeles, CA, USA
• Smithsonian Institute, outside artists, collection Dan Prince, Washington D.C, USA
• Tolerance Museum, Los Angeles, CA, USA
• San Diego Museum of Living Artists, San Diego, CA, USA
• Frederick R. Weisman Museum, Los Angeles, CA, USA
• Springfield Art Museum, Springfield, MI, Watercolor USA, Merritt Award 2001, 2005
• Carnegie Art Museum, California, USA – Art News Award 2001
• Museum Center RSHU , Museum of Tsvetaeva, Moscow, Russia
• Gilcrease Museum, Tulsa, Oklahoma, USA – American Art in Miniature 2007
• Julie Collins Smith Museum of Fine Art, Columbus, GA, USA
• San Diego Museum of Art, Fine Art Festival 2
• MOMA, NY, NY, USA – radio / internet production with WPSI, with Elle Attlee 2005
• Laguna Art Museum, Laguna Beach, CA, USA, Art auction, 2004
• Schacknow Museum of Fine Arts, Plantation, Florida, USA – personal show 2003
• S-MOVA, Sonoma Museum of Visual Art, Santa Rosa, CA, USA 2002
• Lancaster Museum of Fine Art, PA, USA
• San Bernardino County Museum, CA, USA
• Roswell Museum, New Mexico, USA
• Rio Honda Museum, Whittier, California, USA – personal show
• Coachella Valley Museum, California, USA – personal show 2000
• New Britain Museum of American Art, New Britain, CT, USA 2001
• Carnegie Art Museum, CA, USA
• San Francisco Museum of Folk Art, in cooperation with S.T.A.R. Collection and Daniel C. Prince, CA, USA
• Los Angeles County Museum, MAE in conjunction with special exhibition, Made in California: Art, Image, and Identity, 1900-2000
• Seattle Art Museum, slide show , Seattle, WA, USA
• Chattahoochee Valley Art Museum, GA, USA, Lagrange National 22 Biennial Exhibit
• UCLA Hillel Museum, 2016

---
Performing and Contemporary Art Centers

• Salon des Artistes Francais, Le Salon 1999, Paris, France
• Galerie du Toit de la Grande Arche de la Defense, Paris, France
• Lincoln Center, New York, NY, USA
• Thousand Oaks Performing Art Center, Ventura, CA, USA
• Pacific Design Center, Los Angeles, CA, USA
• EuroArt, Geneva, Switzerland
• Olympia Art Fair, London, England
• MAHMA, CA, USA – personal show 2012
• 44th Annual Grammy Award, MusiCare 2002
• Performing Art Center, Dream Magazine, personal show, San Francisco, CA, USA 2009
• Bridge Art Fair, London, England 2008
• Telluride International Jazz Festival, Featured Artist, CO, USA
• Art at the JCC, Naïve and Outsider Art, Santa Barbara, CA, USA

---
Selected Galleries Solo Art Exhibits

• Gallerie D. Assadi, Nyon, Switzerland
• La Galerie Original, Nice, France
• Galleri Gummirummet, Stockholm, Sweden
• G2 Gallery, Venice, CA, USA 2011
• Left Coast Gallery, Personal show, Los Angeles, CA, USA 2011
• Gallery Piquel, personal show, New York, NY, USA 2009
• Neal Elinoff Gallery, Telluride, CO, USA, 2010
• Ambassador Galleries, Inc., Soho, New York, NY, 2000
• Zass Gallery, Laguna Beach, CA, USA
• Gallery Piquel, personal show, New York, NY 2009
• Wendt Gallery, Laguna Beach, CA, USA
• Rodgers Erdman Gallery, 2 man show, West 3rd Street , Los Angeles, CA, USA
• Irina Nevsca Gallery, Union Square, San Francisco, CA, USA 2012
• Wendt Gallery, Laguna Beach, CA, USA 2011
• Zass Gallery, Laguna Beach, CA, USA 2006
• Meyer Gallery, Jackson, WY, USA
• Stuart Gallery, Encino, CA, USA
• Finegood Gallery, The Jewish Federation show, Los Angeles, CA, USA
• Meyer Gallery, Jackson, WY, USA 2007
• Gallerie Barjur, Mammoth, CA, USA, 2005
• Don O'Melveny Gallery, Miracle Mile, Los Angeles, CA, USA 2004
• Contemporary Art Gallery, La Jolla, CA, USA 2008